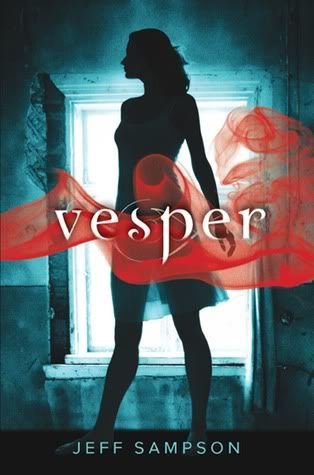 I would like to thank HarperCollins Publishers, for sending this book for me to read.
Throughout reading, Vesper, I had mixed feelings about it due to certain characterization.
The synopsis portrays lead character, Emily Webb as a geek who is happy her with herself. However, in the beginning, it seems as if Emily is uncomfortable within her own skin, which comes of, mainly, due to her "best friend" Megan. I found Megan to be really annoying character. She is one of those girls who has been so overlooked by the popular crowd that she decides that anything "cool" is horrible. When Emily starts going through these weird changes where her "dark" side comes out, Megan starts calling her "slutty" for showing off cleavage and flirting with guys. If I was Emily I would have dropped her like a brick.
"Nightmare" Emily, is a very fun character to read about, she is a hedonist who grabs life by the balls and laughs. Whenever she came out the book took a whole new, and compelling, light. She is what kept me reading and hoping that the two Emily's would meet and become one.
The event that jump-starts our protagonist's main story, is the death of Emily Cooke, the "other Emily" and how it starts to effect her. Emily Webb starts to think that the darkness inside of her is the ghost of the late Emily. Every night she seems to come alive and become the very antithesis of herself. It's like a less dramatic "Black Swan" type deal.
A very slow start, the story does eventually progress towards the end, which comes together with a very strong sequel hook. There was a lot of red herring to try and keep readers guessing what was really going on with Emily. For in the end what really mattered most was the epiphany near the end as showed that the character was developing into her own person and that made reading all the other stuff worth it.
Besides the character of Megan, the only real problem I had with this book was the constant name-dropping to make Emily seem like a geek. It was as if the writer was trying to make us know "yeah she's one of you, she loved Dr. Who, Lord of the Ring, etc." For me all that stuff just comes off as weak characterization.
Overall a light read and I would probably pay to read the next installment.
3.0